BEBIDA DE MEZCLA DE MORAS
CON
VITAMINA A & C
PRESENTACIÓN EN ENVASE DE
200 ML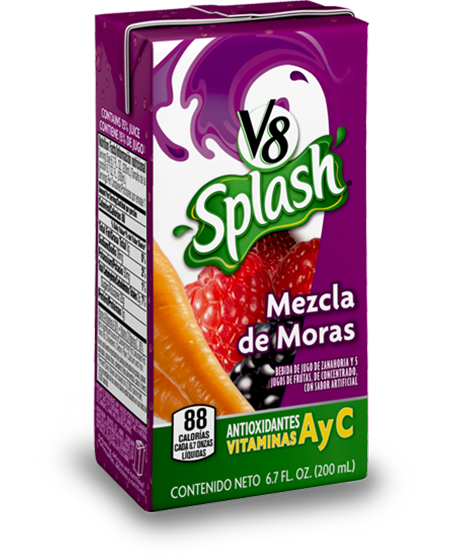 200 ML

473 ML

473 ML
Información Nutricional / Nutrition Facts
| | | | |
| --- | --- | --- | --- |
| Tamaño de la porción | | | 200 mL (6.7 OZ FL) |
| Serving Size | | | 200 mL (6.7 OZ FL) |
| Porciones por envase / Servings per container | | | 1 |
| Cantidad por Porción / Amount Per Serving | | | |
| Energía / Calorías | | | 374 kJ/88 kcal |
| % de Valor Diario* / % Daily Value* | | | |
| Grasa Total / Total Fat | | | 0g 0% |
| Sodio / Sodium | | | 38 mg 2% |
| Potasio / Potassium | | | 50mg 1% |
| Carbohidratos Totales / Total Carbohydrate | | | 22g 7% |
| Azúcares / Sugars | | | 20g |
| Proteína / Protein | | | 0g |
| Vitamina / Vitamin A | | | 30% |
| Vitamina / Vitamin C | | | 80% |
No es una fuente significativa de calorías procedentes de grasas, grasa saturada, grasas trans, colesterol, fibra dietética, calcio y hierro.
Not a significant source of calories from fat, saturated fat, trans fat, cholesterol, dietary fiber, calcium and iron.
*Los porcentajes de los valores diarios están basados en una dieta de 2,000 Calorías (FDA). *Percent Daily Values are based on a 2,000 calorie diet (FDA).
INGREDIENTES: Agua, Jugo de zanahoria a partir de concentrado y Mezcla de jugo de frutas a partir de concentrado (manzana, cereza, fresa, frambuesa y zarzamora) 15%, Azúcar, Ácidos cítrico y málico (Reguladores de la acidez), Saborizante artificial, Ácido ascórbico (Vitamina C, antioxidante), Rojo Allura AC (0.010%, Colorante artificial).